x44Adam's EMS Web Rings
click on flag to translate this page

if you came here thru a ring
use dropdown menu to go to
x44Adam's other pages


SiteRing by Bravenet.com Ring graphics by Nat

The Emergency 911 Ring is owned by CodeRN2
This Site you're looking at is owned by Eddie Corr

[Next Page | Skip It |Ring Hub |Prev | Ring Hub]


Want to join the ring? Get the information








SiteRing by Bravenet.com








CODE BLUE EMS SiteRing

This site owned by
Eddie Corr
SiteRing by Bravenet.com
Graphics by Medic 710
[ Previous 5 Sites | Skip Previous | Previous | Next ]

This RingSurf Emergency Medical Services Net Ring
owned by x44Adam's EMS Page .

[ Skip Next | Next 5 Sites | Random Site | List Sites ]
<! begin medics webring >
<! end MEDICS WebRing code>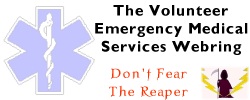 Volunteer Emergency Medical Services Webring site owned by Eddie Corr.
[ Previous 5 Sites | Previous | Next | Next 5 Sites | Random Site | List Sites



"The E.M.S. WebRing"
Enter the ring and E.M.S. Cyberspace, but please bookmark this site first. Thank you.
Follow the ring for "quality informative E.M.S. related sites!"
/ Next Site /
/ Skip a Site /
/ The Next Five Sites /
/ The Previous Site /
/ A Random Site /
This Volunteer Ambulance Corps WebRing site owned by Eddie Corr.
[ Previous 5 Sites | Previous | Next | Next 5 Sites | Random Site | List Sites ]


Yahoo Web Rings


Return To x44Adam's Home Page





View My Guestbook
Sign My Guestbook

This site is designed, maintained and updated by:
Eddie Corr,EMT-D,ret., Webmaster.
Last Updated:
Friday, December 29, 2000
09:45 hours